Digital Holter Monitoring
Digital Holter Monitoring is an easy to use diagnostic test that records the electrical activity of a patient�s heart for 24 to 72 hours. This test helps to identify and quantify cardiac arrhythmias that may occur infrequently and may not be present during a standard EKG test in a physician�s office. Patients who are experiencing palpitations, dizziness, fainting spells, shortness of breath or chest pain may be prescribed a Holter Monitor. For a complete listing of all local Medicare qualifying ICD-9 codes and guidelines, please visit: Click Here
CardioScan�s Digital Holter Monitor is the size of a cell phone and can easily be kept on the patient�s belt or on a provided strap over the shoulder. In addition, the device allows the nurse or technician to view 3 channels of real time ECG during the hook-up process. This assures a good quality electrical signal will be recorded and the physician will be able to accurately interpret the patient�s results the first time it is worn.
CardioScan�s easy to use Holter software can be installed anywhere a physician has access to the internet and comes at absolutely no cost to the facility. The upload process can be completed in a matter of minutes utilizing a HIPAA compliant proprietary encryption program which ensures that every patient�s personal data is completely secure during its transmission to our lab.
Following receipt of a patient�s Holter data, our certified analysts perform the most comprehensive analysis and report summary in the industry. They will identify each of the underlying and transient rhythms present during the recording period and summarize each patient symptom. This complete summary gives the physician all of the necessary information they need to begin the diagnosis and treatment of the patient.
For a complete technical data sheet on our Digital Holter recorder, please click on the picture to the right.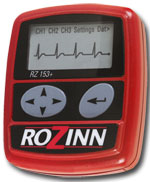 Ambulatory Blood Pressure Monitoring
CardioScan currently provides Ambulatory Blood Pressure Monitoring (ABPM) for our clients. Our blood pressure device uses an easy to use digital monitor that can record a patient�s blood pressure during their normal daily activities for a period of 24 hours or longer.
This monitor can be extremely helpful in regulating a patient�s blood pressure medication as well as identifying White Coat Hypertension. For a complete listing of applicable CPT and ICD-9 Codes, please review our ABPM chart.
Our device utilizes an oscillometric measurement technique that was given a grade of �A� by the British Hypertension Society for both systolic and diastolic measurements. Reimbursement for ABPM can vary from $60-$120 for Medicare patients and $75-$300 for private insurance carriers. Reimbursement values vary depending on geographical region as well as the patients underlying condition. Please contact your billing intermediary for further information.